" To ensure that a child learns well, you must first make sure that he or she comes with a full stomach. "
The idea of creating a canteen was born with that of the Tangou school. The local political and economic context is not easy and many villagers struggle to feed themselves properly.
Our aim is to relieve the most deprived families and allow each child at school to have the necessary energy to follow the lessons and benefit 100% from the education that is offered to him/her.
Every year, we redouble our efforts to ensure the distribution of daily meals for about 100 children from the most deprived families.
Since 2011, we have been financing :
the purchase of kitchen utensils

the renting of an agricultural land in Douentza for the creation of a vegetable garden
the purchase of two donkeys and a cart equipped with a 50-litre metal barrel to ensure the school's water supply.
the purchase of agricultural equipment
the salary of the canteen lady
the purchase of food products
the construction of a well and a water tower
the construction of a storage shelter for food products
Plan Mali and World Vision financed in 2014 :

1 kitchen room
a borehole next to the school
The local authorities financed in 2016 :
the pump powered by solar panels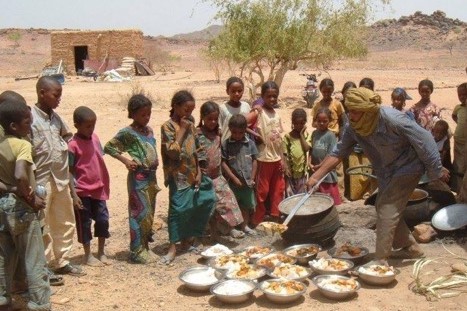 1 meal = € 2,60 for one child for one month
If you wish to support us in this mission, you can send us your donation by post to :
Sahara Anmilale
Mairie de Villecroze
Place de la Souvenance
83 690 - Villecroze, France
or directly to our HelloAsso page :